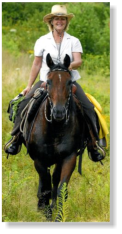 Any person interested in horses and horsemanship may become a member of this club. Persons under the age of 18 must have written permission from a parent or guardian. Dues are paid annually on January 31st. Complete information about Smart Rides, click here.
Select from two types of memberships:
Working Members: Who are required to participate at club functions or
Social Members: Informed of all club functions while not required to participate.
Annual Membership Fee:
New Members: $15.00
Renewing Members: $10.00
top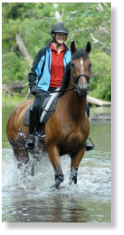 We are gearing up for our 28th season of organized trail rides. The schedule has been arranged. Our first ride of the year will be at the end of April and will be held at the beautiful Maudsley State Park, our June ride will be held in Milton Mills, New Hampshire at the Branch Hill Farm. July's ride will be held in the Lyman/Alfred area, this is a new ride for us this year. Our annual overnight ride will be held in September, Labor Day weekend in Gilmanton, New Hampshire followed by our end of September ride in beautiful Gorham, Maine. October's ride will be in Newfield, Maine. We will end the season with our favorite ride, the Turkey Trot to be held in November in South Berwick, Maine.
Those of you that have ridden with us in the past know that in addition to the beautiful and challenging trails, we also offer some great meals!! You are also familiar with the type of terrain that we cover, but for "newcomers" we offer these guidelines … Ordinarily our rides are approximately 12-20 miles in length. The first ride of the season tends to be shorter to facilitate "conditioning." Our rides are "pleasure rides" and welcome all levels of riders, however, please realize that as the season progresses the terrain and the obstacles tend to become more challenging. The rule of thumb is check with the contact people should you have any questions.
We are affiliated with NEHTA (New England Horse and trail Association)
Current Negative Coggins must be provided.
For more information on our rides, please click here.
Ride Prices:
Ride and Meal(Members): $20.00
Ride and Meal (Non-Members): $25.00
Meal Only: $10.00
Overnight ride: TBA
top
Click on the ride date or location for more information **Ride dates tentative, more information will be provided when available**
Date
Ride Coordinators
Email Address
Telephone
Location
April 30, 2017
Sandra Rogers
(207) 651-6571
Newburyport, MA
June 18, 2017

Joyce Winchell &
Sandy Galarneau
horsingrnd@metrocast.net
horses276@metrocast.net
(207) 636-3622
(603) 652-4424
Milton Mills, NH
July 30, 2017

Lauren Masellas &
Wendy Caron
lemasellas61@gmail.com
barngoddess65@gmail.com
(207) 415-5946
(207) 985-3520
Lyman, ME
Sept. 2nd & 3rd, 2017
OVERNIGHT
Joyce Winchell
Ron Peabody
horsingrnd@metrocast.net
buddypeabody@comcast.net
(207) 636-3622
(603) 524-8505
Gilmanton, NH
September 17, 2017
Melinda Rankin
mzimmerrankin@une.edu
(207) 749-9503
Gorham, ME
October 22, 2017
Ellen Ross
ellenr@securespeed.us
(207) 247-4108
Newfiled, ME
November 5, 2017
Julia Fortier
fortierjulia@yahoo.com
(207) 384-2604
So. Berwick, ME